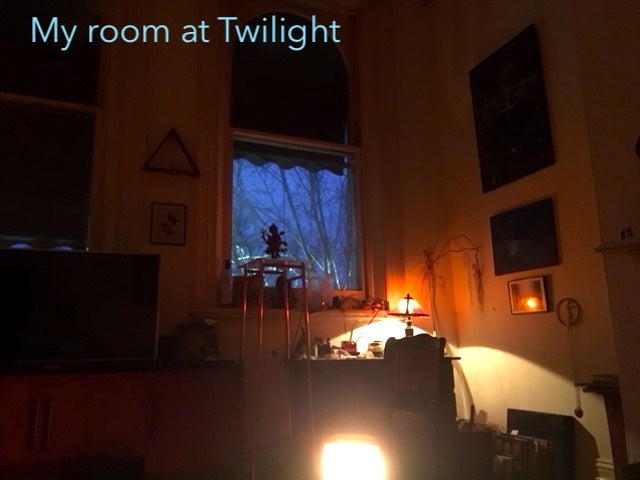 Hi Everyone. Hope you're all doing well and enjoying the positive energies floating around ~ even though they're so often occluded by the daily barrage of negative news ! I crashed out on the couch after work, no TV book or laptop, suddenly realised ~ wow, I'm relaxed ! Hence the pic, to remind myself that actually gazing out of a window, doing and thinking nothing, is as important as all the daily doing :-)
So it's nice to get back into the uploads ~ and interesting to see how they've changed too. Up until recently it was a case if racing the clock to get as much up as quickly as possible. Now I'm taking time to "Smell the Roses " as it were. I've spent decades meditating on the unique qualities of each different gemstone family ~ now I'm realising just how much each individual stone has its own quality. Of course you customers have always known this.  You may want a Tanzanite, for example, but it has to be the right one ! So I'm trying to say a few individual words about each little gemstone soul.
Last week I uploaded Lovely Aquamarines and Heliodors. Also that gem quality Rose Quartz which sold so quickly before. The green ( well Teal really ) Kyanite that really has a whole new energy compared to the regular blue. A few beautiful Amethysts, exceptional carvings of Deities on Gaspeite and Malachite.
This week ~ Aquaprase, an old stone only recently recognised as a variety in it's own right and I have to say that despite it's soft appearance it really packs a psychic punch. Variscite also, not a stone I've valued much before, but with new eyes I see it also has an ancient healing soul.
A couple of Paul's Moonstone Pendants. I've talked about pathway Moonstone before, but one of these has a highway running through it !
The last 5 Ring uploads are a new style from Paul ~ a classic besel but the band has a hammered finish. Lovely stones in more lightweight silver with that extra detail.
OK That's it for now !
I'm eternally grateful to all you conscious beings that support the Heart.
Your consciousness not only controls your personal world, it's also your vote in the world at large.
Blessed be.
Love from the Heart, as always.
Marc, Hillary, Jessica, Laura and Leah
and my trusty suppliers
Amman, Eddie, Julio, Lucky, Marco, Paul, and others.